A virtual receptionist system or auto attendant phone system is a powerful tool that can help small to medium-sized businesses become more efficient and organized. It provides a way for your business to manage incoming calls without the need for a dedicated receptionist while still providing customer service. Here's why your business needs a virtual receptionist system or an auto attendant phone system.
Efficiency
A virtual receptionist system makes it easy for customers to reach your business quickly and efficiently. Calls are routed directly to the appropriate person or department, which eliminates the need for long wait times or inefficient transfers from one person to another.
Plus, automated answers allow customers who know exactly what they want access to the information they need without having to wait on hold or speak with someone who may not be able to provide the best help.
The results are happier customers who get to where they need to go faster and more efficiently. And your internal team won't have to take time out of their day to manage the phone lines. You'll be saving time (and that means money!) for everyone.
Time Savings
One clear advantage of having a virtual receptionist system is that it saves time. Instead of having staff manning the phones all day, you can have the system answer general inquiries and route calls to the appropriate person or department.
This not only eliminates wasted time but also increases productivity because your staff can focus their energies on more important tasks instead of answering phone calls all day long.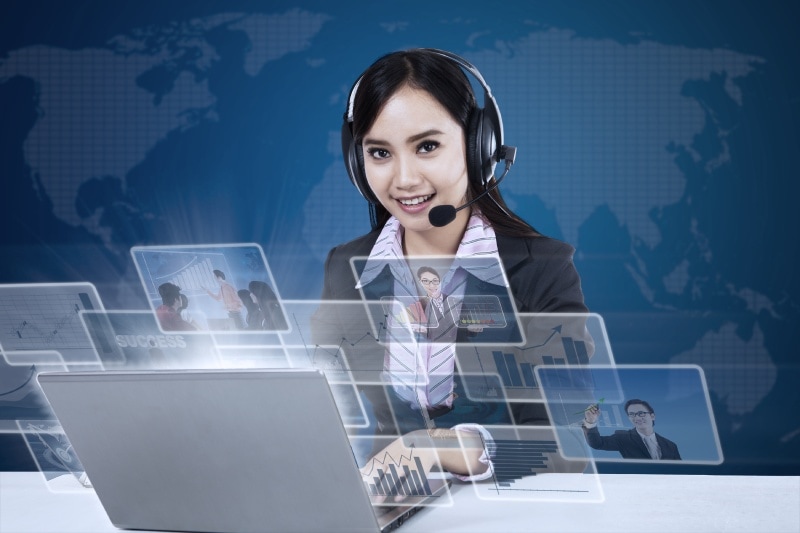 Customer Service
A virtual receptionist phone system ensures that customer calls are answered quickly and professionally every time. Automated messages provide consistent greetings and information, which allows callers to get their questions answered right away without having to explain their issue multiple times during a call.
This encourages customer loyalty and helps ensure that customers always receive excellent service even when they are unable to speak directly with an employee of your company.
Cost
A virtual receptionist system is an affordable solution for businesses looking to save money on telecommunications expenses. By eliminating the need for an in-house receptionist, you can reduce your personnel costs and free up resources that would have been used to pay a traditional employee.
A virtual receptionist phone system is a great way to enhance customer service while saving money. The cost of virtual receptionist software varies depending on the size of your organization and the features chosen, but they are typically much more affordable than hiring a dedicated human receptionist. Plus, you will not have to pay for sick days, vacation days, or an end-of-year bonus.
With virtual receptionists and auto attendant phone systems, businesses may pay an upfront fee for setup, as well as an ongoing subscription cost. These hidden costs and binding contracts can be a detriment to companies, especially small to mid-sized businesses that need to make the most of every dollar.
At Intratel Communications, we believe that you should only pay for what you use, which is why we offer flexible plans and varying pricing tiers, all without needing you to lock yourself into a contract.
Companies large and small should consider taking advantage of virtual receptionist services to save money while still providing excellent customer service.
Why Use Intratel Communications' Business Phone Virtual Receptionist or our Auto Attendant Phone System
A virtual receptionist phone system for small businesses has tons of advantages but no other company can provide the level of customer service that Intratel Communications can.
Intratel Communication's virtual receptionist phone system is an invaluable asset for any business. Using this state-of-the-art virtual phone system, businesses can not only save time and effort when dealing with incoming calls but also benefit from the flexibility that this virtual phone receptionist software provides. Rather than having to manage multiple incoming lines and manually transfer them to correct extensions, the auto attendant phone system ensures that all caller requests are handled quickly and efficiently to allow staff to focus on their work more effectively.
Not only will businesses reduce overhead costs by eliminating extra personnel, but they will also enjoy a professional image projected at all times, ensuring customers receive the highest degree of customer service.
Much like your customers expect top-tier customer service, we know ours do, too. You will always be able to contact us with any questions, concerns, troubleshooting queries, or improvements you wish for. Intratel Communications prides itself on working with small to mid-sized Canadian businesses. As a local Canadian business ourselves, we know the value of providing unrivaled services.
For these reasons and many more, using Intratel Communications' virtual receptionist phone system is the perfect solution for any business seeking efficient call management solutions.