Cloud Based Phone Systems for Canadian Businesses
Good business starts with a good conversation — and with the demands of the industry today, that means having multiple conversations at a single time to interface with as many customers as possible. This calls for a smart new way of handling calls, a cloud phone system.
Hosted PBX phone systems allow you to respond to every customer as quickly as possible. But it's more than just picking up the phone when it rings. Hosted PBX cloud phone systems pack advanced call management features that enable you to direct calls as needed, and capture messages when it's after-hours and the system is offline.
Features of our Hosted PBX System
Do more and reach more customers and partners with this leading communication solution offered by the best hosted PBX provider in Canada:
Toll-free numbers: help customers reach you faster wherever they are, at no additional cost
Unlimited Canada and the US calling: connect with customers and vendors all over the country in real-time, and across the border

Unlimited phone lines: be always available across multiple lines, as many as your high-speed bandwidth can support

Advanced call management: direct calls as needed using a fully customizable IVR or auto-attendant, caller ID, call notifications, call parking, call queuing, and call waiting. As well as extension paging and BLF monitoring so that customers can get answers in record time

Web management: direct voicemail to email and remote voicemail retrieval, extension monitoring, and access through smartphone applications, enabling efficient leveraging of digital technology in handling calls and queries

Document transmission and conferencing: secure digital two-way faxing, three-way calling, and schedule-based routing to enable effective collaboration, even with partners external to the organization

Per extension voicemail: leverage the positive impact of personalized customer service with customizable voicemail greetings and settings

Find Me and Follow Me: stay on top of all incoming calls using an extension that forwards calls and messages to your smartphone remotely.
Full Scalability
When your business is poised for growth, you'll need the right tools for building a growing number of lasting customer relationships. On the communication front, that means expanding phone lines for maximum customer reach. Unlike traditional landlines, more lines supported by a hosted PBX system don't mean more cables and a greater demand for physical infrastructure. Integrate new lines into an existing system, so you can leverage the increased capabilities of hosted call management as operations expand and benefit from future-proof technology and network capabilities. Respond to more customers in real-time as call volumes rise without missing a beat on fast and personalized service every time.
Hosted PBX systems also pack multi-point redundancy, designed to leverage advanced call features and digitally-enabled management. Hosted PBX Systems are built around web-based solutions, such as voicemail to email retrieval and smartphone extension integration. You can respond to every call and message even when you're not on the phone.
Know why Intratel is considered the best provider of cloud phone systems in Canada.
Unbeatable Customer Service

: fast and effective response to each query, ensuring long-term customer satisfaction

Personalized service

: entrusting the future of your business with us is a major investment, so we know that it's best met with a personalized service tailored according to the size of operations and growth objectives

Smart savings

: the cost of doing business alone is already a lot — and you don't need unnecessary phone expenses. Our hosted PBX solutions are fully customizable and require minimal investment to deploy.
Switch to the Cloud / Learn More
Areas We Serve
Intratel offers cloud phone systems/hosted PBX solutions to the following Regions in Ontario, Canada.
Stoney Creek

Grimsby

Niagara Falls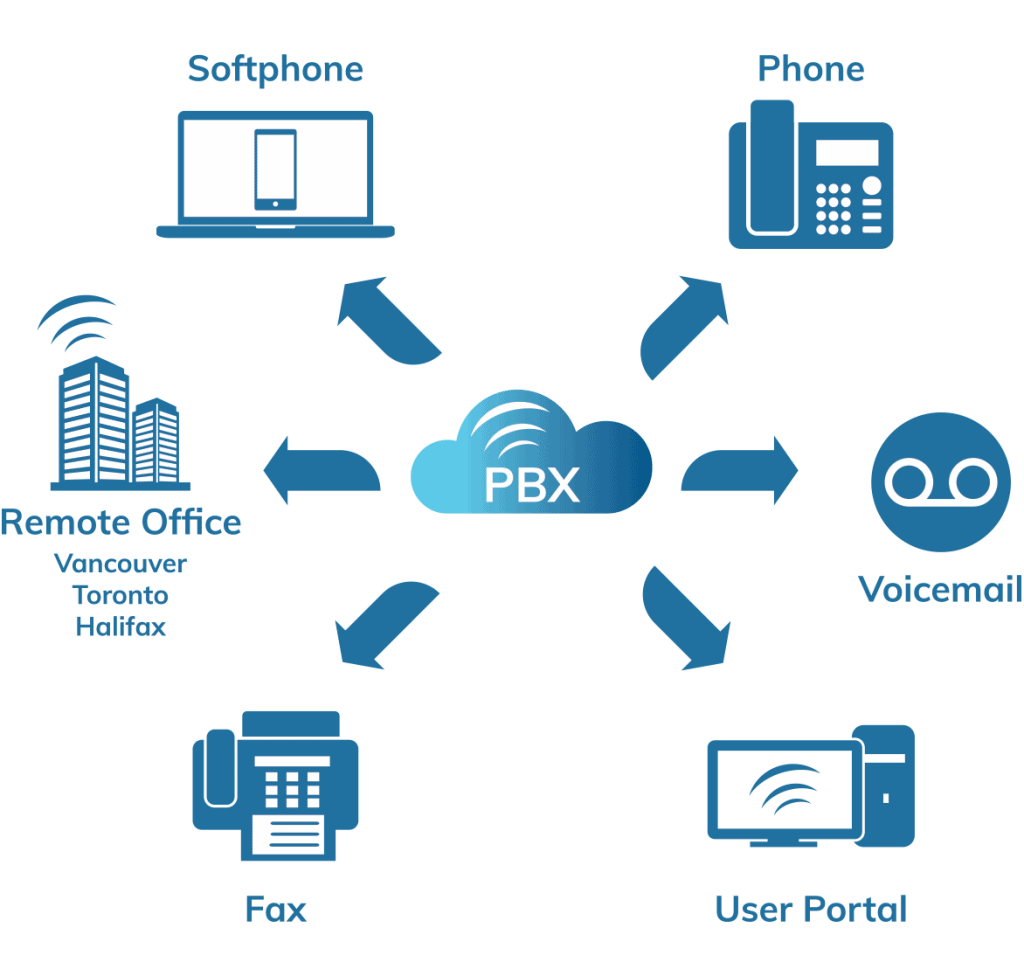 View the VoIP business phones we offer
Fully Customizable Virtual PBX System
Hosted PBX systems, or Virtual PBX systems, pack a ton of powerful, integrated communication solutions, but every operation is different. At Intratel, we support full customization of hosted PBX features in individual systems. Your business benefits from specific solutions tailored to  your operation
VoIP Business Phone Integration
Get your VoIP business phones and hosted PBX system all in one place and discover the benefits of seamless integration. VoIP business phone lines from Intratel already come with toll-free numbers and full control over the scalability of lines, as well as Emergency Forwarding to a backup phone in case of a power outage or Internet disconnection. VoIP business phones also come with instant protection through 911 emergency service registration, enabling fast response in the event of a crisis.
Suffice to say, Intratel is a reliable provider of cloud-based phone systems in Canada. 
Standard Hosted PBX System - $24.95 / Extension
Unlock the benefits of effective organizational communication with all the best features of hosted PBX, including toll-free numbers and unlimited calling, full scalability, advanced call management features, web-based management, and redundancy features, personalized voicemail, and

Find Me Follow Me technology

.
Hybrid Solutions - $16.95 / Line
For businesses still in transition from legacy phone systems, equip existing analog phones with essential PBX system capabilities for improved customer experience over the phone and unlock generous savings on long-distance calling.
Larger operations require increased control over phone systems and integrated communication solutions. Instead of hosted PBX systems, an on-premise option is available to support larger companies through direct investment in a dedicated, in-house call management. Designed to support call centre operations, on-premise PBX is equipped with advanced queue monitoring, call recording, and voice conferencing for increased customer satisfaction guarantee and measurable performance improvements.
Make the Switch to Meaningful Conversations
A hosted PBX phone system empowers businesses to do more, but without chaining your team to the desk for fast response to incoming calls and effective outreach through outgoing ones. With this smart system in place, you can program the system to route calls based on set schedules and custom notifications, even directly to your smartphone. No more waiting for the phone to ring and manually capturing essential information — a hosted PBX cloud phone system does all that and more for you. Discover what you're missing out on.