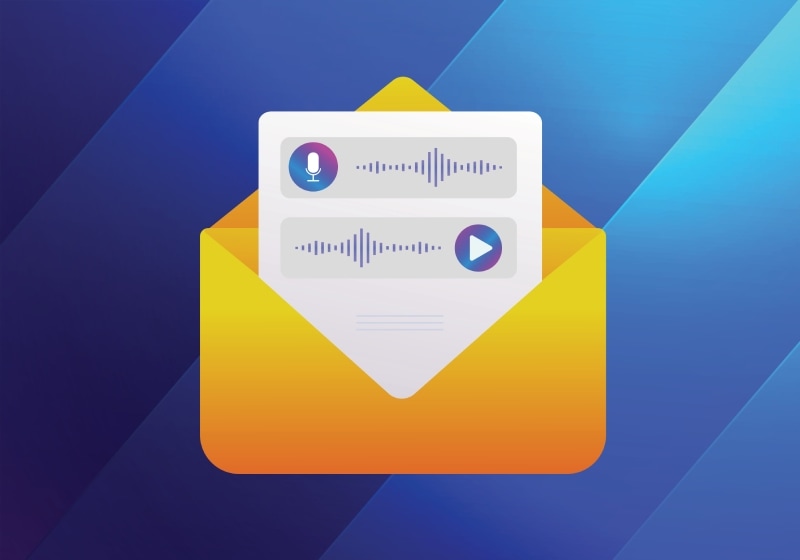 In today's fast-paced world, small and medium-sized business owners need access to their communication systems even when they're away from their desks.
With the advancement of technology, businesses can now receive their voicemails as emails, which allows them to stay on top of their messages no matter where they are. In fact, we have a convenient online portal where yo ucan see, play, and download voicemails as well!
In this blog post, we'll discuss how voicemail to email works, its benefits, and how it can make your business more efficient.
What is Voicemail to Email?
Voicemail to email, as the name suggests, is a service that forwards your voicemail directly to your email.
When you cannot answer your phone or are away from it, callers will be greeted with your personalized answering service that prompts them to leave a message. As soon as they leave a message, you will be notified through an email that contains the time and date of the call and caller ID.
You can then listen to the message at your own convenience, whether you're in the office, on the road, or even at home.
How Does Voicemail to Email Work?
Voicemail to email is an advanced feature that sends your audio messages or a notification that there is a new voicemail for you directly to your email inbox for instant access. By simply reading your messages on your computer or mobile device, you can manage and respond to them promptly, even when you are unable to take calls.
Depending on your provider, there are a few different methods you can take to send a voicemail to email. For example, with Intratel, we offer these three to our clients:
The first option: You will receive an email with the voicemail attached. You get a notification email that comes with an audio file of a voicemail message attached. This message will also be saved in your separate voicemail inbox.
The second option: You receive an email with the recording attached. However, the voicemail message will automatically be deleted after the email has been sent.
The third option: You only receive an email with no attachments. The email only contains a message that a new voicemail is waiting for you in your voicemail inbox.
The process is seamless and straightforward, ensuring you never miss an important message again. With voicemail forward to email, you can enhance your communication experience and improve your productivity.
Intratel allows businesses to receive voicemail to email in Canada with two different phone systems: Hosted PBX and on-premise PBX.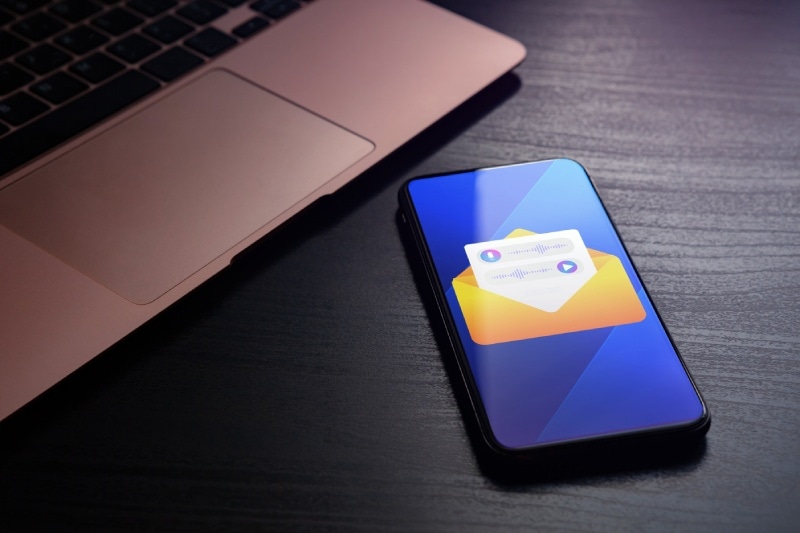 Benefits of Voicemail to Email
Voicemail to email offers many benefits for small- to mid-sized businesses.
Access
One significant advantage of voicemail to email is that it allows business owners to access their voicemails anywhere and at any time. This helps to streamline communication and ensures that messages are never missed.
Time savings
Voicemail to email also saves time since you no longer have to waste time dialing into your voicemail system and listening to each message. Instead, you can listen to the audio message in your email and decide whether you need to respond immediately or later.
Increased efficiency
Another benefit of voicemail to email is that it increases efficiency since it allows you to forward the message to other team members for follow-up action. For instance, if a client leaves a message that concerns your sales team, you can forward it to them with one click. This ensures that the message reaches the right team member quickly, saving valuable time and ensuring that your clients are attended to promptly.
By having your voicemails sent directly to your email inbox, you can easily skim through them, prioritize, and respond accordingly. Not only is it highly convenient, but also time-efficient.
Communication streamlined
Another advantage of voicemail to email is that it can streamline your communication. Voicemail messages in your inbox can be translated into text with transcription software. This allows you to keep a record of your audio files in your email, which means you can search for keywords when you need to find important details. With voicemail to email, you can read directly from an email message and take the necessary action.
Records
Voicemail to email can also help you maintain a record of your voicemail messages. Traditional voicemail often requires you to delete messages to make space for new ones. With voicemail to email, all your voicemails are stored with easy access, and you can easily forward them to coworkers, clients, or other stakeholders as needed.
Voicemail to Email and Your Business
Voicemail to email has changed the way small and medium-sized business owners handle their voicemail management. By forwarding voicemails to an email, business owners access voicemails from any location, at any time, ensuring that important messages are not missed.
Voicemail to email increases efficiency and eliminates the need for a physical voicemail machine, reducing equipment and maintenance costs. If you're interested in learning more about how voicemail to email works and how it can help your business, get in touch with Intratel Communications today.