Deciding which cloud-based phone system is best for your company can be a daunting task. There are many different options available, each with its own set of pros and cons. In this blog post, we'll compare a few of the most popular companies so you can have a better understanding of what's available and cover their cloud-based phone system pros and cons.
RingCentral 
RingCentral is a popular cloud-based office phone system. It is feature-rich unified communication as a service (UCaaS) solution. They provide enterprise VoIP features that have combined internet telephony with messaging, audio, video, conferencing, contact centers and faxing. RingCentral only allows you to text if you have a direct RingCentral number assigned to your extension.
Pros
RingCentral makes it easy to call, message, and meet with employees and customers. They have everything located in one app which makes it easy to set up, use, and manage your communications. And, you can access the app from any device, whether it's your PC, smartphone, tablet, or desk phone. 
People tend to love their HD video meeting offerings. It is a pretty generous free video meeting feature, which allows unlimited calling for up to 24 hours and up to 100 participants.
Cons
RingCentral is a global company, so it's unclear where its cloud resources are located. If you're far away from them, you could suffer from a slow experience. Their global nature also means that support is slow, some users have reported weeks-long problems without solutions while experiencing poor communication from RingCentral's support team. 
Companies often have a difficult time setting up and managing the interactive voice response (IVR) menu. Doing anything outside of the standard seems to cause issues with the system. 
One user reported, "things that should be seamless like forwarding a vacationing employee's phone to a call queue aren't even possible. Want to add an extension/line for an employee? Too bad, that's only possible if you add an external facing line." 
It can also be notoriously difficult to end your service contract and migrate your numbers. So, if your company needs flexibility, this may not be the right VoIP provider for you. 
Net2Phone 
Net2Phone is a Canadian-based company that helps unify business communications. They offer a VoIP service that is "easy to set up, simple to use, and comes ready to go."
Pros: 
Net2Phone has key features like all-in-one business calls, meetings, and messaging. And they offer a cloud-based call center phone system. They also allow you to view call reports, store audio records, and leverage performance wallboards. When you sign up, you will receive a personalized onboarding session that they say will help you achieve your business communication goals.
They service customers in +160 countries worldwide. They offer plug-and-play installs to customers who don't need a customizable cloud-based phone system.
Cons: 
Customer support has been reported by some users to be lacking. If so, troubleshooting issues can take up much of your valuable time and put you at risk of missing important communication. 
Net2Phone's onboarding team has been reported to be external consultants hired by the company. This puts the team at a disadvantage in helping customers get their phones set up or troubleshoot their issues. 
"Net2Phone promised pre-configured VoIP polycom phones that would have limited set-up once the phones are delivered to our office. This could not have been further from actuality. The onboarding engineer/project manager was kind and well-intentioned, but did not seem to have a command of the system or the necessary tools for proper onboarding (the onboarding team are consultants, not actual net2phone employees)" says one user.
Users have also reported difficulties with canceling their services and continuing to be charged after you have canceled. If you are looking for a robust customer support team, this may not be the right provider for you. 
Dialpad 
Dialpad is a cloud-based phone system that can connect your team through voice, video, messages, and online meetings. Dialad is a UCaaS system that has text messaging software built into it. 
Pros:
Dialpad has an intuitively designed platform with a streamlined user experience. They have modern communication features and offer competitive pricing models. Dialpad makes it easy to integrate with Google Contacts. They also provide auto-generated and useful VoiceIntelligence transcripts of calls. 
Cons:
Dialpad's pricing model is prohibitive for small businesses. They do not allow anyone on their lower price tiers to access basic features like IVR or setting holidays. And, Dialpad's pricing is high for the features they offer. 
Users have reported that they have been mistakenly charged for lines they did not use, but Dialpad would not refund them nor remove the unneeded line. The user said it was very difficult to remove lines but adding them was easy. 
Lower-tier packages also do not have direct access to customer support. 
Nextiva 
Nextiva is a simple, affordable VoIP phone service. They offer cloud PBX with video conferencing, a mobile app, call recording, and other enterprise features. 
Pros:
Nextiva's auto-attendant settings are easy to navigate. Their ease of use is top-rated among many. Nextiva phones come pre-setup and the onboarding process is streamlined and straightforward. Technical support of often readily available. 
Cons:
Be wary before you sign into the Nextiva contract and be sure to read the fine print. One user reported that Nextiva's "pricing and contracts all but force you to stick with them long term or pay an arm and a leg to leave." Termination costs appear to be the remainder of your existing contract yet the contracts appear to auto-renew without warning. 
Another user has noted that they stopped using Nextiva due to poor call quality and customer service. Their client calls were dropped frequently and yet they are locked into a 3-year contract. 
If you are looking for flexibility and a transparent contractual agreement, Nextiva may not be for you.
Intratel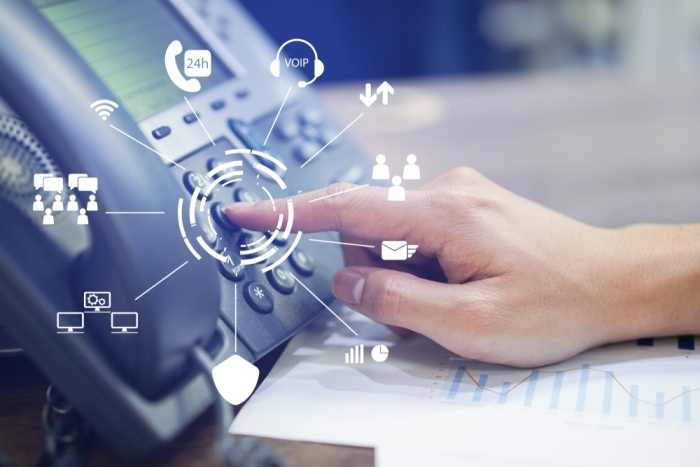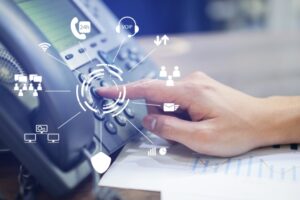 Intratel is an excellent choice when it comes to choosing a cloud-based business phone system. We offer enterprise-grade features and advanced tools to give businesses of all sizes the opportunity to have a powerful, reliable communications system. 
Pros:
Our services come at an affordable price with several calling plans, making us one of the most cost-effective solutions out there. Plus, we don't require any long-term contracts or commitments so there's no risk associated with trying our service. When you sign up for Intratel, you're signing up for freedom. You can cancel any time, but we're sure you won't want to. 
Users report great support and staff and excellent pricing. We're proud of our reviews and reputation and feel like they tell a full picture of how we run our business. 
The combination of features, affordability and flexibility make Intratel a great choice for any business looking for a cloud phone system provider. Even if you're currently locked in a contract, we can help. 
Cons:
While our number porting fees may be on the higher side of the industry average, we provide competitively priced tiers and a la carte services so you can tailor your services to your needs. 
Why Choose Us? 
Intratel is a cloud-based phone system Canada loves. 
Where other providers fall flat, Intratel continues to exceed expectations. For example, we know that your experience is faster and better when you are closer to the region your cloud resources are located. That's why, at Intratel, 100% of our network is owned and operated locally in Tier 3 Canadian data centres. We also partner with all the major carriers so we can guarantee you top-quality communications paired with small business-like customer service.
We are proud to provide local, Canadian services to our communities. Get A Quote Today!